With every passing season and trend, the items considered a must, only seams to increase. With so many things it's not easy trying to decide which ones to have and invest in and which ones you can do with out. Following a trend doesn't make you a fashionista, but having your own ideas and having a style of your own does. There are a few pieces that we believe is staple for any aspiring fashionista. Start your collection early that way you know you won't be disappointed.
A neck piece
Having a statement neck piece that can double up as a collar would be great. Keep it chunky yet simply. You should be able to wear it with formal shirts as well as other looks. The great thing about such a piece is how it looks when worn with office shirts. It gives the basic look a funky uplift that every fashion conscious individual will be able to appreciate. Having such neck pieces that you can wear and mix to create different looks would be a good start to a great collection. Look for jewellery boxes online that can fit your necklaces and keep them safe. This way you can be sure that they will keep for long.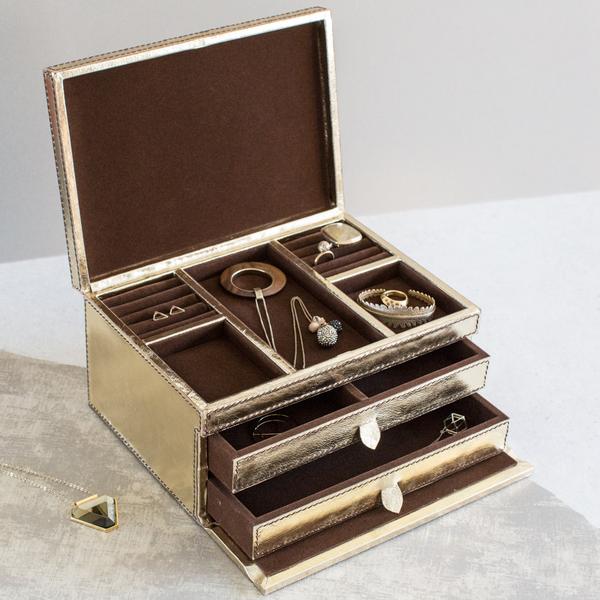 Time keepers
A watch is a must own item. Whether you wear lots of accessories or not a good watch that has just the right amount of bling will make any outfit complete. It gives the look of professionalism and sophistication when worn right. Pair it with random, simple bracelets to create a casual chunky look or keep it simple and formal just as it is. Best to invest in a quality one and keep for many years. After all old time pieces have a great look, that you can sport in the future.
Chunky rings
If you like to accessorise with rings then this is a great option for you. Rings too can create a lot of character and give your appearance personality depending on the kind you choose to wear. Choose from the many options available. Chunky plain bands, large colourful stones, small delicate stone detailing and plain thin bands. Wear them in figment fingers at once to create a dramatic effect. Invest in a good product to keep them well organized. This way you wont have to be confused web selecting one to wear when getting ready. Keeping your accessories well organised and displaced properly will enable you to get dressed easily. Keeping them carefully in relevant boxes and holders will make sure that they don't get damaged.